Get Involved
We have many opportunities for you to help with our mission of keeping babies clean, dry and healthy. Look at the list below to see what works for you or your school, church, Scout group, etc.  Click on any pink word to sign up or learn more. Have another idea?  We'd love to hear it!
Join our mailing list to receive information on other volunteer needs as well.
 And click here to sign up for diaper wrap sessions!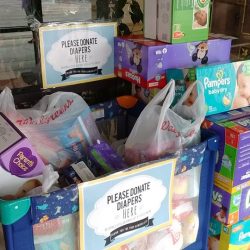 .
Come Wrap Diapers
We host wrap sessions where we package diapers in sets of 12 for delivery to our partners.  They are held on the second Saturday morning and third Tuesday evening every month at our warehouse in north Loveland.  To sign up, click here. To watch the video, click here.
Host a diaper drive
We can use diapers from size preemie through 6 and Pull Ups.  Sizes 4, 5 and 6 are the most requested.
We have a "Diaper Drive Tool Kit" with poster ideas, fact sheets and more to make it as easy as possible. Not sure? Check out our one-page Diaper Drive Checklist and see what it takes (not much!) Contact us and we'll be happy to help you get started. If you want to wrap your bounty, we can help you with a wrap session.
Donate diapers
We have 2 drop-off sites that accept diaper donations: Weedin Insuarance Agency is located at 1601 E. Eisenhower, Loveland and Marinda Simpson's State Farm Insurance Agency at 2601 S Lemay, Ft Collins.  Email us and  we can arrange a pick up of your donation. And if you are willing to be a donation drop off site, please let us know. 
Invite us to your party
If you use Evite.com to send out invitations, you can designate The Nappie Project as the recipient of donations in your name.  Just click on the "Donations Options" in the right lower corner and search for us.
Go shopping at Amazon
We have a Wish List on Amazon.  Just add some of these needed items to your cart and Amazon will ship them directly to us.  No drop off needed! Please keep your receipt for your taxes because the orders come to us as anonymous donations. And when shopping for yourself. please choose us as your Amazon Smile charity. Go to http://smile.amazon.com/ch/81-1192537 and shop as usual; a portion of the proceeds come back to us.
Send Us Your Pampers Points
We can use your Pampers Points to order stationary and other items.  Send us a photo of the label and we'll take it from there.
Specialized Skills
We need help with warehouse management, volunteer coordination and fundraising.  If you have one of these skill sets, let's talk! Email us today.
Invite us to talk
If you belong to a group that invites community speakers, we'd love to share our story with you.  Contact us today.
Facebook Fundraisers
You can start a Facebook fundraising page for The Nappie Project in honor of a birthday, special event or just because! Click here to go to the Facebook Fundraising page.
Come out with us!
Check out our calendar for current events and community fundraisers. We are always looking for volunteers and community members who are passionate about helping families.
Still have questions? Email us or give us a call at 970-541-0757